Chassis only toilet trailers
For the ultimate DIY enthusiast, we can offer toilet trailer chassis' for you to design and build your own body. You will have the best start if you use one of our high quality chassis Designed and built from the ground up, our units offer superior strength and towing characteristics. The combined galvanised steel chassis and tank create a strong and rigid base for the unit taking all stresses and strains away from the body. The trailer will come fitted with a phenolic plywood floor over regular floor supports, for superb strength and durability.
Whilst offering a standard range of toilet trailer chassis, our full European (ECWVTA) approval allows us to produce bespoke models to suit your requirements. We produce anything from 10' to 20' long and 6' to 8'2'' wide with various gross weights. So if you don't find what you require in our standard range, please contact us and we can design a unit to meet your requirements.
SC1006

| | |
| --- | --- |
| Body size : | 10' x 6' |
| Gross weight: | 2000kg |
| Wheels and tyres: | 155/80 R13 |
| Layout: | 1 + 1 |
| Tank size: | 750 litre (165 gal) approx |
| Floor | Phenolic plywood as standard |
| Lighting | Fully road legal LED |
| Approval | Full European type approval - ECWVTA |
| Steps | Complete with a set of steps |
Options available:
Stainless steel chassis
Alternative powder coated steps
3 bay layout, including extra step
Waste filter
2+2 layout, including extra steps
SC1506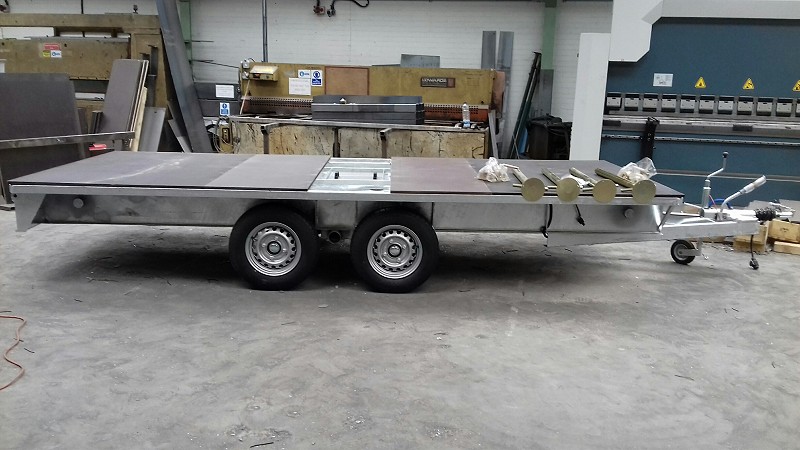 | | |
| --- | --- |
| Body size: | 15' x 6' |
| Gross weight: | 2600kg |
| Wheels and tyres: | 165 R13 |
| Layout: | 4 bay, or 2+1 |
| Tank size: | 1000 litre (220 gal) approx. |
| Floor | Phenolic plywood |
| Lighting | Fully road legal LED |
| Approval | Full European type approval - ECWVTA |
| Steps | Set of steps supplied |
Options available:
Stainless steel chassis
Alternative powder coated steps
4 bay layout, including extra steps
Waste filter
2+2 layout, including extra steps
SC1876
| | |
| --- | --- |
| Body size: 18' x 7'6'' | 18' x 7'6'' |
| Gross weight: 3500kg | 3500kg |
| Wheels and tyres: | 185/70 R13 |
| Layout: | 3 + 1 |
| Tank size: | 1360 litre (300 gal) approx. |
| Floor | Phenolic plywood |
| Lighting | Fully road legal LED |
| Approval | Full European type approval - ECWVTA |
| Steps | Supplied with a set of steps |
Options available:
Stainless steel chassis
Waste filter
Additional steps - 2 ladies + 2 gents
Alternative powder coated steps
SC2076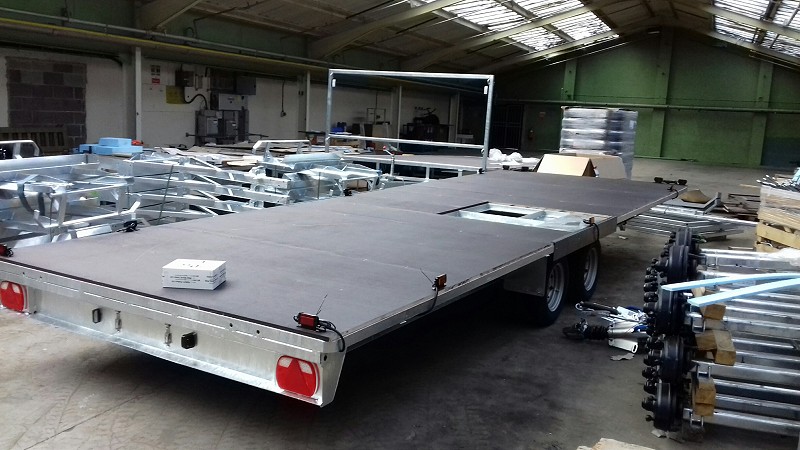 | | |
| --- | --- |
| Body size: | 20' x 7'6'' |
| Gross weight: | 3500kg |
| Wheels and tyres: | 185/70 R13 |
| Layout: | 4 + 2 |
| Tank size: | 1800 litre (400 gal) approx. |
| Floor | Phenolic plywood |
| Lighting | Fully road legal LED |
| Approval | Full European type approval - ECWVTA |
| Steps | Set of steps supplied |
Options available:
Stainless steel chassis
Additional steps - 2 ladies + 2 gents
3 + 2 layout
Alternative powder coated steps
3 + 1 layout
Waste filter